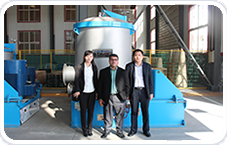 In The Domestic Market:
Leizhan company has an experienced and skilled sales service team and a perfect sales service network around the whole China. The Domestic Market Center has many mineral processing plants in Hebei, Hubei, Shanxi, Yunnan, Xinjiang, Jiangsu, Jiangxi. In order to better serve the general customers.

In International Trade:
Since 2010 our company successfully signed an international trade order, Leizhan Machinery took this as an opportunity to develop international trade. Leizhan Machinery products has found a good sale in so many countries and regions, such as Indonesia, Southeast Asia, Middle East and Africa, and with the reliable and stable quality, our company also has a good reputation at home and abroad.
Leizhan pulp and paper machinery quick-wear parts adopt superior wear-resistant material and advanced processing technology, which makes Leizhan products durable and wear-resistant and also enjoys good reputation home and abroad. Leizhan has exported the whole set of pulp and paper manufacturing equipment and single machine like Drum pulper, Pressure screen to Egypt, Malaysia, Iran, Vietnam, Uzbekistan, South Africa, Zambia and other countries.