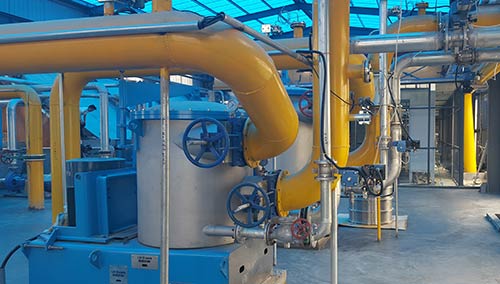 50T/18H LOCC Test-liner Paper Stock preparation system
Well, the complete set of coating board paper pulp production line includes:
1. D type hydrapulper: work with hydrapurger, drum screen, ragger, rope cutter and grapple to form continuous pulping and deslagging system, the large light and heavy impurities in pulper can be rejected in time.
2. High density cleaner: remove all kinds of heavy impurities in paper pulp, like staples, stones, glasses, etc. in stock preparation system.
3. Mid consistency coarse pressure screen: remove heavy impurities and less loss of fiber for coarse screening.
4. Reject Separator: used for fiber relief and impurities separate for tailing in the coarse screen system for waste paper pulp.
5. Low Density Cleaner: remove heavy impurities in the pulp like gravel, scrap iron, dust and large ink particles.
6. Mid Consistency Fine Pressure Screen: separate the qualified pulp and non-qualified pulp. It consists of cylinder, cylinder cover, sieve drum, rotary cylinder, base and transmission parts, etc.
7. Double Disc Refiner: beat and improve the beating degree of pulp to satisfy the paper making demand.
8. Double wire pulp press washer
9. Inflow pressure screen: Inflow structure, low pulse, good effect of homogenate.
10. Square pulp chest agitator: stir pulp cyclically in chest to maintain the pulp liquid in suspending condition, which ensure the pulp components even distribution.
11. pulp pump and water pump: transport liquid or solid materials in paper making, coal, mine, electric power food, urban sewage industry, etc.
Spare parts of Pulping line
Also Leizhan supply consumable parts of paper pulp machine for paper making, such as: rotors, Sieve plate, Seal, Screen basket, and so on. We offer solutions and tech support for free, to learn more, contact us please: leizhanchina@gmail.com