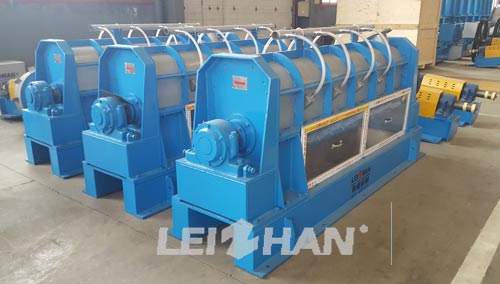 Overview Of Reject Separator
1. what is Reject Separator?
Reject separator is a kind screening machine in paper pulping process, which is mainly used for removing impurities from coarse pulp fiber.

2. How does Reject Separator work?
The rotor in the machine can produce a centrifugal force in the process of high-speed rotation and backwash water can increase the pulping effectively, on this condition, the fine pulp fiber and impurities can be easily separated.

3. What is Reject Separator working parameter?
Leizhan provides two types reject separator: PZ1 and PZ2.
Compared with PZ1, PZ2 has a large production capacity. PZ1 can only produce 15-30t/d while PZ2 can reach to 60t/d. As a result, the motor power of PZ2 is also bigger than PZ1. PZ2 consumes 30-37kw but PZ1 only consume 22kw.

4. What is Reject Separator structure?
The reject separator is made of stable feed, blade rotor, sprinklers and helical rotor blades.
Leizhan Advantage On Reject Separator
Cause reject separator is used for removing impurities, so the more fine pulp fiber, the better machine works.
Leizhan reject separator can largely improve the pulp fiber consistency depending on the specially designed rotors, so the pulp fiber less loss.
Besides, for the exquisite processing tail working system, the impurities can be slagged at the most degree.