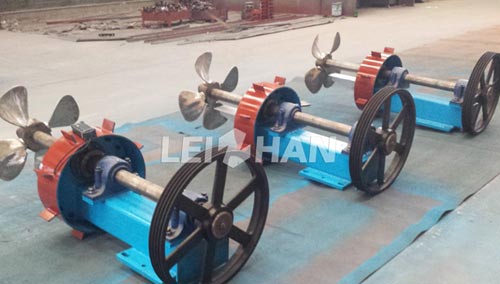 What Is Chest Agitator?
Chest agitator is a pulp fiber mixing machine, which is mainly used for mixing long pulp fiber to keep the fiber stay at a even suspension condition.
Structure of chest agitator: it consists of impellers, gearing and power plant.
1. Main bearing is fixed on frame by two bearings and bearing block.
2. Motor is installed on basic plate.
3. Gearing belt pulley is installed on the other side of main bearing,and other parts compose an unit.
4. Impellers is revolved along with the bearing revolves, and then the pulp fiber mix into chest.
Chest Agitator Working Parameter
The working efficiency of chest agitator is mainly rely on the impeller diameter. Generally, the agitator has four impeller, and with the widening of the impeller diameter, the chest volume and motor power also increased.
Leizhan supplies 11 type chest agitator, and the impeller diameter range from φ500 to φ1800. So the chest volume is differ from 20m³ to 230m³ and motor power is 5.5-75Kw.
Paper mill can choose different chest agitator model according to the production capacity to meet the need.