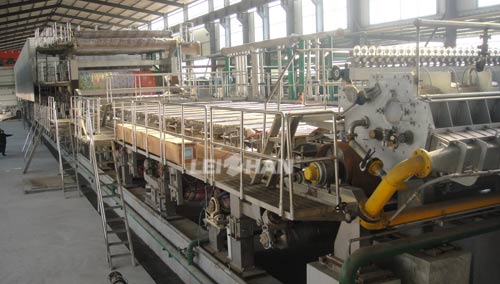 Corrugating medium paper can be produced by processing paper board, waste paper, straw pulp, etc. Leizhan supply the whole paper manufacturing line including waste paper pulp processing line machine and corrugated medium paper making machine for customer's plant.
Corrugating medium paper pulping process
Pulping: waste paper board can be conveyed into Pulper machine like Drum pulper, D type hydrapulper, etc. for pulping.
Cleaning: Use High density cleaner and Low density cleaner to remove heavy impurities in paper pulp.
Screening: Use pulp screening system machine like M.C. pressure screen, Light impurities separator, Reject separator, Inflow pressure screen and so on for coarse and fine screening of paper pulp and tailings processing.
Corrugating medium paper making machine
After producing fine pulp, the pulp will be conveyed into headbox of paper machine for corrugating medium paper making. After processing by the forming, pressing, drying, calendering and rewinding part of paper machine, fine paper products can be produced.