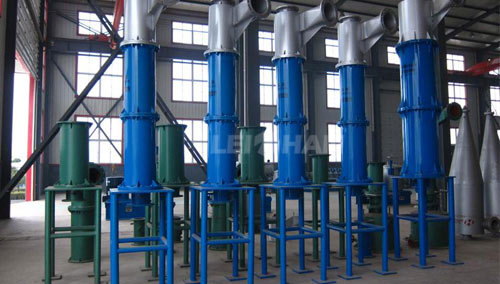 Pulp Cleaning Equipment
High Density Cleaner: Removing heavy impurities in paper pulp like staples, stones, glasses, etc.
Low Density Cleaner: Mainly used for removing heavy impurities in the pulp like gravel, scrap iron, dust and large ink particles.
Competitives Advantages Of Cleaning Machine
H.D.Cleaning Equipment adopts wear resistance ceramics cone, which has longer service life, the output pulp and input pulp of High Density Cleaner are made of stainless steel, which is anti-corrosion. PLC control cabinet can protect the machine working stable and smoothly.
The same as High Density Cleaner, the bottom of cone of Low Density Cleaning equipment adopts wear-resistant ceramics, output pulp and input pulp is stainless steel.
Difference in H.D.Cleaner And L.D.Cleaner
Use position: High Density Cleaning Machine is used after pulp Hydrapulper, Low Density Cleaning equipment is applied for behind of fine screening.
Working consistency: H.D.Cleaner is 2%-5%,L.D.Cleaner is 0.3%-1.5%