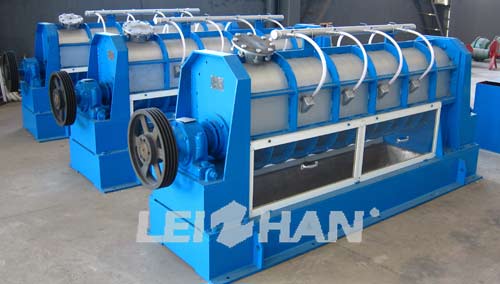 PZ Reject Separator Structure
PZ Reject Separator mainly consists of cover, rotor, screen plate, pedestal and drive device.
Cover: it is connected with pedestal through flange, and equipped with a spraying pipe and a pulp-guiding plate in the cover.
Rotor: it is welded with a revolving sweeping blade in the axial direction and a spiral-shaped cleaning board. The sweeping blade is used to flap and tear rejects. The cleaning board can clean the sieve plate effectively and ensure the smooth of sieve plate.
Sieve plate: it is an arch type, which is made of stainless steel. There are various sizes hole, which allows customers to choose according to raw material type and technological process.
Pedestal: it is used to mount plate, cover and rotor on this.Accepts through sieve hole will flow out from outlet in pedestal, the light impurities will be discharged from slag discharging mouth in the pedestal.
PZ Reject Separator Installation
1. Hoist the equipment on foundation, level and do the first grouting.
2. After the solidification of the first grouting ,level the equipment, then do the second grouting. Fill gaps between the pedestal and foundation plane, and correct foundation appearance.
3. The oblong hole in the middle of foundation is used as accepts groove. The groove surface should be smooth,and no pulp stick pulp If possible, the groove surface can be stuck with ceramic tile.