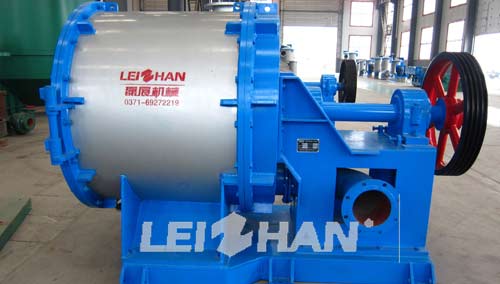 Single Effect Separator is mainly used for secondary separating the light and weight impurities from wasted paper pulp and breaking the paper pulp into thick liquid pieces after water power pulping machine like hydrapulper. Besides, single effect separator can also work in coarse paper pulping process.
Single Effect Separator Structure
Single Effect Separator has a sealed horizontal water-driven cylindrical body and an independent heavy impurities separator, which can remove the impurities effectively and low down the energy consumption.
Besides, the specially designed impeller can break fiber effectively.
Single Effect Separator Work Data Specification
According to the different production capacity, Leizhan has six type single effect separator to meet different need. The production capacity ranges from 50-70t/d to 400-500t/d. With the different production capacity, the machine motor power is different as well.
For example, the ZDF2 has a 50-70t/d production capacity and its motor power is 45Kw, while ZDF3's production capacity is 80-120t/d and its motor power is 55Kw. It means that a high production capacity cost more energy, so paper mill can choose different type according to the practical production need.
The concentration of input pulp is 2%-4%, and the pressure of input pulp is 0.15-0.20Mpa.
Leizhan Advantage At Single Effect Separator
1. leizhan has more than thirty years positive experience in producing paper making machine and is proficient at paper pulping machine. Leizhan has supplied single effect separator for paper mill around world and get high praise about the machine equipment.
2. The single effect separator can automatically discharge according to production requirement and run reliably.
3. Maintenance is easily to attain and cost is low.