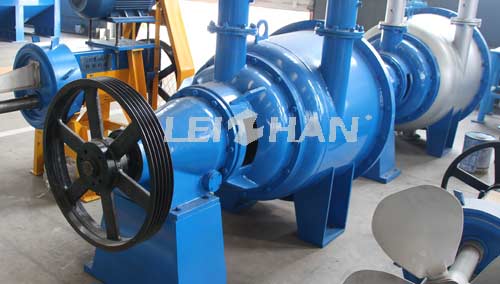 What Is Single Separator?
Single separator is a kind paper making machine, which is used for secondary breaking and screening of waste paper pulp after the screening and pulping machine.
Single Separator Fundamental Functions
1. Use for secondary defibering paper pulp
2. Separate light impurities
3. Remove heavy and coarse impurities
Single Separator Main Features
Leizhan paper company produce ZDF Single Fiber Separator for paper mill to meet the removing impurities' need. The main features of ZDF Single Fiber Separator are:
1. It can secondary remove the slurry from the paper pulp to optimize pulp quality
2. Use centrifuge work principle to remove light debris, which can improve high separation efficiency
3. ZDF Single Fiber Separator has a cylindrical tube design structure, taking less room and have a high capacity
Single Separator Working Parameter
Leizhan offers six type Single Separator to meet different production need.
The six type machine have the same concentration of input pulp(2-4%), pressure of input pulp(0.15-0.2Mpa). The biggest difference is the impeller diameter. With the different in impeller diameter, the production capacity, motor power and machine weight are also different.
For example, ZDF2 Single Separator has a φ560mm impeller diameter, and its production capacity is 30-50t/d, and motor power is 45Kw. While ZDF5's impeller diameter is φ1100mm ,its production capacity is 165-265t/d, and motor power is 110Kw.
So, you can choose different type single separator according to the paper mill production need and Leizhan customized the installation plant based on practical production.