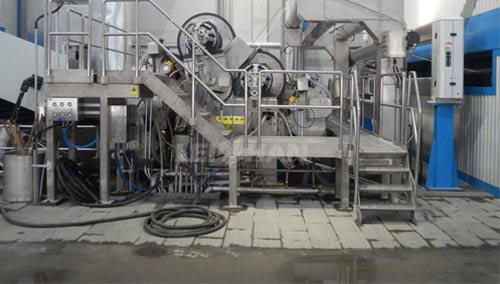 Size press is divided into horizontal type and inclined type, pneumatic pressurizing, surface sizing is to prevent liquid permeate, obtain good surface performance and improve paper's physical properties, such as surface strength and internal bond, etc.
Sizing Machine In Paper Making Line
Sizing Machine in paper making line is used after dryer section.
Size Press put emulsified glue continuously, uniform and stable on paper surface, through infiltration, extrusion and other series of physical function, form a thin waterproofer on paper surface, greatly improve the paper's water-absorbing quality.
At the same time, the binding strength of the fiber and the tightness of the paper are increased under the action of the glue solution, so as to improve the horizontal ring pressure index and longitudinal crack length of the paper. After sizing process, paper will through next group dryer cylinder of dryer section again, then form moderate dryness paper.
If you have any other questions? Welcome to consult us: leizhanchina@gmail.com.