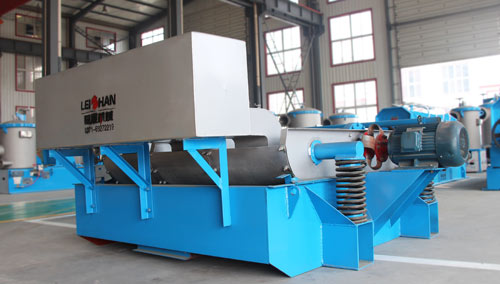 Waste Paper Vibrating Screen for sale
Recently, Leizhan supply a single pulp device(vibrating screen) for a Syria customer. The customer already has complete sets of paper production line, and the vibrating screening equipment need replacing. After many visits and contrast, they chosen our vibrating screener machinery.
Self-cleaning vibrating screen
Auto-cleaning vibrating screen is often used in the back of coarse sieve or fiber separator machine to separate the light slag from tail pulp. The Screening equipment divided into two kinds: hole vibrating screen and gap vibrating screen. The Product Capacity of Hole screen ranges from 7.5t/d to 75t/d, and the Input Pulp Concentration of Hole screen is 1.0%~1.5%. The Product Capacity of Gap Screen ranges from 3.5t/d to 25t/d, and Input Pulp Concentration of Gap Screen is 0.5%~0.8%.
Vibrating screen & reject separator differences
Relatively speaking, vibrating screen works stable in pulping, and just play a role of screening trail pulp entered.
However, slag separator own rotor and blades itself, which can crushed pulp entered again. Also the tailings is cleaner.
Light Impurity Separator
Leizhan suggest a new type separator machine: Light Impurity Separator (also called: Apple vibrating screen)
The apple vibrating screen play the same role with paper pulp vibrating screen, but the Production Capacity ranges from 35t/d to 140t/d. And the Production Capacity of separator machine is only 15t/d to 60t/d. We can see that, the Production Capacity of Light Impurity Separator is more than twice pulp screener.
In addition, the impurity separating equipment has great ability of pulp cleaning function, and it can greatly reduce the burden and damage of the following pulp equipment. So, why not choose it?