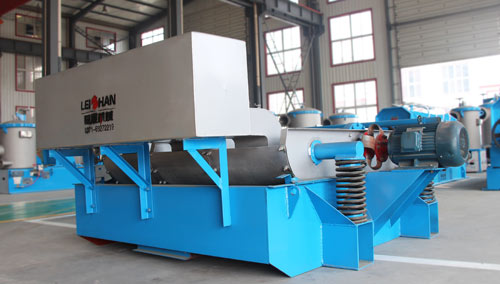 Pulp screening machine Vibrating Screen is mainly used to process and screen the pulp rejects during the pulp&paper making industry.
Working principle of Vibrating Screen
When the pulp goes into the screen body, the screen body vibrates upwards then there will be instantaneous negative pressure air in the seal chamber to accelerates the accepts to go through the sieve hole (slot) into the pulp storage tank, the sieve rejects are blocked above the sieve plate.
When part of pulp go through the sieve hole (slot), some of the pulp will be due to dehydration to form a layer of pulp film on sieve plate.This will put off the continue of the screening.
When the screen body vibrates downwards, the pulp on the sieve plate will produce instantaneous weightlessness, meanwhile the screen body falls, the air in the air seal chamber will generate the pressure by being compressed and upthrust through sieve hole (slot)to scatter the pulp film on the sieve plate and self-wash, then this make sure sieve hole (slot)clear out and the continue of the screening.
The screen body's front and back vibration will make the rejects move forward to the exit and discharge it.
Spray pipe will dilute the rejects, this is advantageous to the continue of the screening, and wash away the carried fiber, reduce the fiber loss.