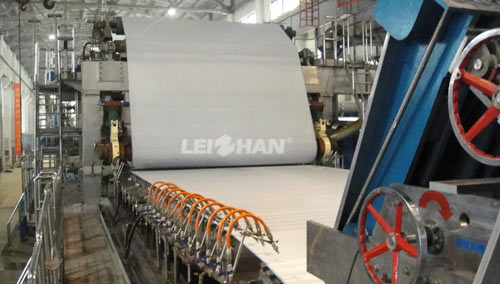 Raw material: Wood pulp
Finished product: Printing paper, Writing paper, Exercise book, etc.
Capacity: 20-270T/D
Leizhan is able to supply the whole printing paper production line based on wood pulp, waste paper as raw material. Capacity can be 20-270T/D. Take 30T/18H commodity wood pulp processing line as example, Leizhan gives you the following solution.
Leizhan Pulp and Paper Machinery Company is one of the most advanced and leading manufacturers in pulp and paper industry with excellent reputation for high quality product, perfect services and professional knowledge. Leizhan manufactures high quality pulp and paper machine with state-of-the-art technology and has made great success around the world.
30T/18H commodity wood pulp processing line equipment list
BFW1200 Chain conveyor
ZDSD23 D type hydrapulper
ZSC4 High density cleaner
ZM450 Conical refiner
ZDP450 Double disc refiner
NLS0.6 Pressure screen before paper machine
ZTJ850 Pulp chest/agitator