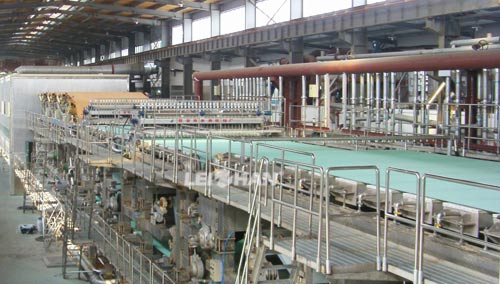 Leizhan has many experience in supplying Kraft/Testliner paper production line machine use waste paper, paper board as raw material for paper mill. Leizhan Kraft/Testliner paper making machine adopts QCS control system and advanced technology.
Leizhan can supply the whole paper production machine as well as spare parts like dryer cylinder, doctor blade, vacuum pump,  press roll, dryer, pope reel, felt roll, felt, polyester wire,  head box, rewinder, calender machine for paper mill.
Kraft Paper Making Machine in China
Leizhan China kraft paper machine produces high grade kraft paper board use waste paper, paper board as raw material. Due to its high strength and moisture resistance, this product is used as a top ply for corrugated board for packaging. The basis weight ranges from 80 g/m² to 200 g/m². The trimmed width range from 1880-5800mm. Leizhan kraft paper making machine can produce 45-750 tons of kraft paper per day.