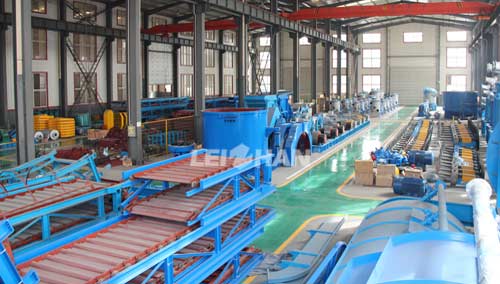 BFW type waste paper board chain conveying machine is used in paper making industry for conveying  kinds of scattered and bundled raw material. The recycled paper board conveyor can do horizontal transmission and less the 25 gradient transport. The Chain conveying machine is widely used for feeding waste paper and pulp board to Hydrapulper pulp breaking machine.
Features of Waste paper board conveying machine
Leizhan waste paper board chain conveying machine adopts chain to drive through plate to transport raw material, with advantage of reasonable structure, large transmission capacity, lower power consumption. It is the best ideal waste paper and pulp plate conveying equipment after many years usage of many paper mill.
In order to meet the needs of the users and techonological layout requirements, the transmission installation of chain conveyor is divided into left type and right type (look up along the material running direction, transmission installation in the right of the machine is right type, Otherwise for the right type). Customer can chose the chain conveyor installation types according to the Process design requirements. When customer place an order for chain conveyor, the left or right type should be indicated in the contract.