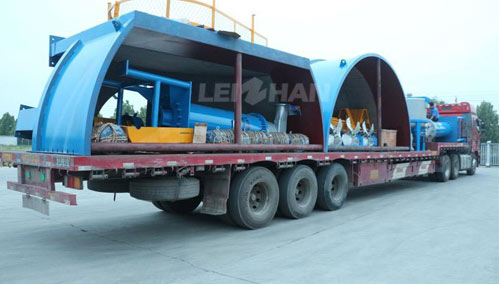 Leizhan received an order from Jiangxi Wanzaijinke paper Co., Ltd not long ago. Here is the deliverying site of complete pulping line, which includes D Type Hydrapulper, Pulp Agitator, High Density Cleaner, etc. Pulping process is an important part to paper making, High quality pulp can determines paper's smoothness, color and other specification. Leizhan has been at the forefront of professional technology, we looking forward our pulp equipment can bring benefits to Jinke paper as soon as possible.
Function Of Pulping Machine
D Type Hydrapulper: Mainly used for pulping raw material with Hydrapurger, Drum Screen, Pulp Ragger, Rope Cutter and Grapple, the large light and heavy impurities in pulper can be rejected in time, which avoid pulping the impurities, reduce the following equipment burden. At the same time, it can take less time to stop and clean, improve the whole system dealing capacity.
Pulp Agitator: Stirring pulp cyclically in chest to maintain the pulp liquid in suspending condition, which ensure the pulp components even distribution.
High Density Cleaner: An equipment for cleaning system, mainly remove all kinds of heavy impurities in paper pulp, like staples, stones, glasses, etc.
Leizhan can provide different production capacity pulping equipment and paper making machine to satisfy paper makers different demand. And our professional engineer can design the best suitable project for you, which is high yield and low investment.