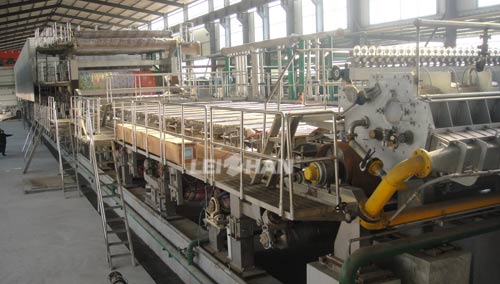 The fine pulp is evenly distributed on forming part of Fourdrinier paper machine use Headbox. The design of the forming section has a strong influence on formation of sheet.  The forming part of paper machine has the effect of sheet formation and dewatering. The pulp dryness before forming section is lower than 1%, the pulp dryness after forming part is over 18-21%.
Structure of Fourdrinier forming section
Leizhan Fourdrinier forming section mainly consists of wire table rack, walking board, white water tray, forming board, dewatering plate, wet absorb box, suction box, breast roll support up and down, vacuum couch, wire driving roll, wire leading roll, scraper, spray pipe, paper edge cutting paper leading squirt cut, wire tight device, corrector and so on. Fourdrinier wire is polyester forming wire and adopts cantilever type wire changing type. Jack is in the operating side and work with proper load jack.
With Leizhan Fourdrinier forming section, good sheet formation and high quality paper can be achieved and Leizhan can supply tailored design and various type to meet the various paper grades production of paper mills.