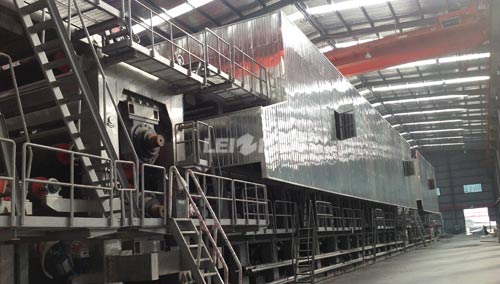 With Leizhan grey back paper board making machine, paper makers can use various kinds of raw materials like waste paper, virgin pulp, commodity wood pulp, straw pulp, white shavings and so on as raw material to make high strength grey back paper board. Capacity can be 45-750.
For the stable working and high efficient of paper plants' paper making process, it is important to ensure good performance paper making equipment, replacement devices and appropriate pulp and paper manufacturing solutions to meet paper mill's needs. For meeting the requirements of paper makers, Leizhan gives tailored solutions for customers.
Pulp production line process:
Grey back paper making machine
Leizhan can supply headbox type paper making machine for producing White top grey back paper products. Trimmed width can be 1880-5800mm, basis weight can be 80-220g/m2, working speed can be 150-800, and the capacity of paper machine can be 45-750 tons per day.