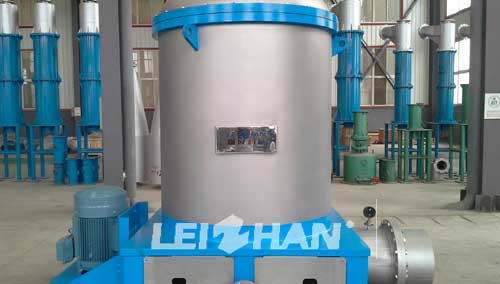 Inflow Pressure Screen Work Principle
NLS inflow pressure screen is a continuous screening equipment with pressure in a whole closed condition.
Firstly, the pulp fiber moves along the stock inlet in a tangential direction to enter into the outside screen cylinder located in the top machine. With the pressure difference between the inside and outside screen cylinder, accepted pulp will enter the screen cylinder through the screen hole or screen slot.
Secondly, the accepted pulp is led-out through the accepted pulp pipe, and the slurries and impurities are drained from the slagging pipe located at the bottom of machine.
Thirdly, the tail of screen cylinder generates negative pressure to back wash the screen hole or screen slot, preventing the screen hole and slot from blocking to make sure the pulp fiber can continuous sweep through the screen hole or slot and screening run smoothly.
Leizhan Inflow Pressure Screen
Leizhan supply nine types inflow pressure screen to meet different production need. The nine types have the same input consistency 0.4%-0.8% and input pressure 0.1-0.4MPa. The classification standard depends on the screen cylinder nominal area. With the different nominal area, the equipment production capacity also different.
For example, NLS0.6 inflow pressure screen's screen area is 0.6㎡, and its' production capacity is 30-60t/d(screen hole) and the motor power is 18.5Kw, while NLS5 type's screen area is 5NLS5, and its' production capacity is 350-600t/d(screen hole) and motor power is 75Kw.
Paper mill can choose different equipment type according to the production need and Leizhan customize the paper making project to maximize the production efficient.