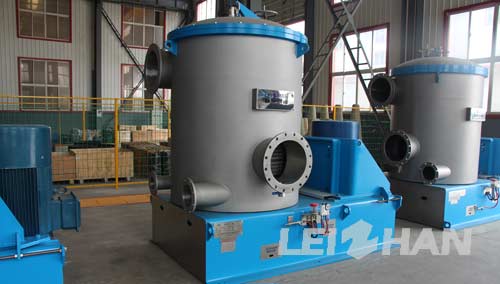 Leizhan builds a 100tpd Paperboard Packaging Production Line for an Indonesian paper mill, In the production process, pressure screen is the most important section according to the paperboard packaging specialty.
Pressure Screen Used In Production Process
Leizhan design to install three type pressure screen in the 100tpd paperboard packaging making process.
The first one is ZNS0.9 M.C. Pressure Screen, which can screen pulp under quite high consistency 2.5-4%, and the automatic oil injection device can reduce maintenance.
The second one is UV3.0 Up-flow Pressure Screen, which can work under consistency 0.2-0.5%, it can usefully screen the waste paper pulp in coarse and fine screening.
The third one is NLS2 Inflow Pressure Screen, which can screen under consistency 0.4-0.8%. It is not only has a small motor power, but also has automatic oil injection device and seal water detection alarm device, ensuring the equipment running safely.
Leizhan Pressure Screen Characteristic
1. Leizhan pressure screen's screen cylinder has double mechanical seal, ensuring the well leakproofness of the machine and keep the machine running safely.
2. Different piece rotor can be chosen to meet the efficient and energy-saving need.
3. Automatic oil injection and pressure water alarm device can keep the machine security.
4. The sieve basket's screen cut is 0.25mm, the impurities and paper pulp fiber can be selected and screened by a premium way.
5. European standard pulleys can reduce maintenance and prolong service life.