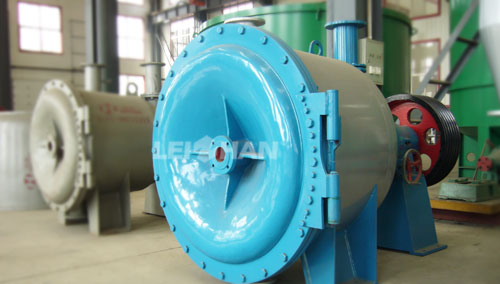 Turbo separator is mainly used for separating light and heavy impurities from waste paper pulp and continue to break-up the pulp twice time. It can reduce primary processing of raw materials, thus saving 10-20% energy consumption per unit and obtaining superiority pulp, less fiber loss.
Advantages of Turbo separator
The equipment collects break-up separating light-heavy function in one unit, with compact structure and high efficiency, simply the waste paper processing flow, reduce energy consumption.
Operation of Turbo separator
The processed secondary fibers coming from the Hydrapulper continuously flow through the turbo separator which provides secondary processing. The special design of the machine and the flow produced inside the vat provide the separation of lightweight contraries and heavy dirt particles contained in the stock. These components leave the turbo separator at different points. The lightweight contraries flow to a rescreening stage under the control of a timer-controlled valve. An automatic dirt trap discharges impurities which have a higher specific gravity than the stock.