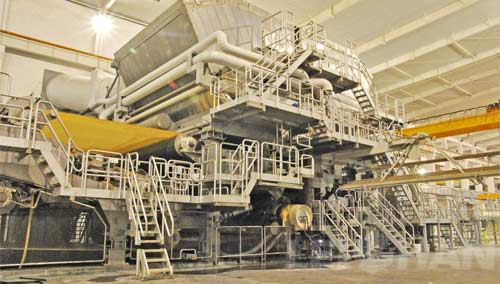 Toilet paper making need through wire part, dryer part, reeling part, etc then get final toilet paper, one of our customer require about the whole production line of 3500mm toilet paper making machine, here are the drying part details
Drying Part Manufacturing Details Of 3500mm Toilet Machine
1. Rack: Iron casting square rack, HT200, Frame δ=40mm, top bridge 400X260, The frame legs δ=45mm, 400X260, with drawing temper treatment, to ensure good stable performance, running smoothly.
2. Dryer: Φ3000mm×2950mm, High alloy iron casting dryer, HT300, surface hardness >HB220, surface smoothness Δ10, Working Pressure 0.5MPa, with bearing 3113168, dryer with rotary steam joints and siphon. Make sure the dryer not only with hardness and smoothness, but also has the toughness and tensile strength, dynamic balance.
3. Driving gear wheel: big gear wheel, M12、210 teeth, HT250, width 180mm. Small gear wheel, M12,34teeth, cast steel, width 180mm, diameter 432mm, drawing temper treatment.
4. Pressure roll: Φ800×3950mmX35, stainless steel rolling, δ=35mm, spindle nose is 45# steel with tempering, rubber covered. Rubber hardness P&J12-20°, spindle nose is cone-shape, Bearing is oil pressure, pneumatic pressurizing, including water tank (stainless steel). Dynamic balance.
5. Guide roll: Φ293mm×4050mm, automatic steel pipe. δ=16mm, spindle nose is 45# steel with tempering, Edged with iron casting bulkhead, 10mm rubber covered, bearing 2216, Dynamic balance.
6. Doctor Blade: hard scraper for creping, iron casting HT300, with drawing temper treatment. The structure is combined pneumatic pressure type, two movable type doctor blades for each paper machine (with motor).
7. Gas hood: Breathing type hot air mask, Both ends sealing plate extended. Material is profile steel welding, outer inlay aluminum alloy plate in case the water drop. Including blowing machine, induced draft fan and radiator.
8. This part including working board, operation walking platform, ladder, handrail, etc.
More details about 3500mm toilet paper making machine, feel free to consult us: leizhanchina@gmail.com