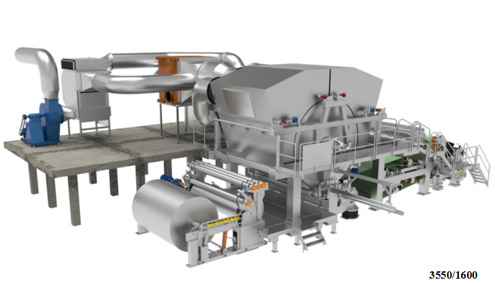 Crescent high-speed toilet paper machine is composed of double-layer bleaching head box, crescent former, vacuum roller, Yankee dryer, high-speed hot air hood, paper reeling machine. The crescent former toilet paper machine use NBKP OR LBKP as raw material to make toilet paper roll or tissue paper roll. High speed, high quality and high quality final paper.
Crescent High-speed Toilet Paper Machine Structure
1. The forming section is composed of: head box, forming roller, water receiver, wire section and white water tank in the machine, guide roller, high and low pressure water spray and cleaning roller doctor.
2. Pressing and drying section is composed of: Yankee dryer, vacuum roller, felt loop, frame, etc. The felt is connected to the forming wire, equipped with pneumatic corrector, electric tensioner, felt guide roller,high-pressure mobile spray pipe, low-pressure fan-shaped spray pipe, felt washing device, etc. The dryer cylinder adopts rolling bearings and is equipped with thin oil lubrication system for circulating lubrication.
3. Reeling section is composed of: paper reel cylinder, main and auxiliary arms and transmission system, arc-shaped rod stretching device, paper roll brake device, frame and so on.
Leizhan offer complete toilet paper making line machine, want to set toilet paper mill, please feel free to consult us for more details. Email: leizhanchina@gmail.com.