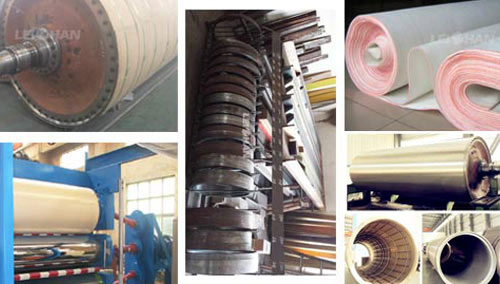 Leizhan is a paper machinery not only concentrate on paper making machine and pulp equipment, but also excellent in paper making machine spare parts, there are different function in each equipment of spare parts.
Function Of Paper Machine Spare Parts
Paper Reeling Machine: Winding paper sheets to certain rolls . The roll width is up to customer's request.
Paper Sizing Machine: Helping paper has good effect of resist liquidity
Paper Mill Calender: Always used to make paper sheet smooth.
Dryer Cylinder: Removing the water on paper, make the dryness of paper can reach92-95%.
Paper Press Roll: Responsible for the drying process of paper production. press rolls for paper machine require a great amount of pressure to be equally distributed to wet paper product, and prepare it for final production stages.
Doctor Holder: Mainly to improve production efficiency, and improve paper quality.
More Details About Leizhan Paper Machinery
Except those, Paper Felt, Foundation Plate, Boiler, Vacuum Pump, and Doctor Blade, etc is widely used in paper making process too, if you want to know more function details about Leizhan paper making machine spare parts? Welcome to consult our professional sales manager: leizhanchina@gmail.com